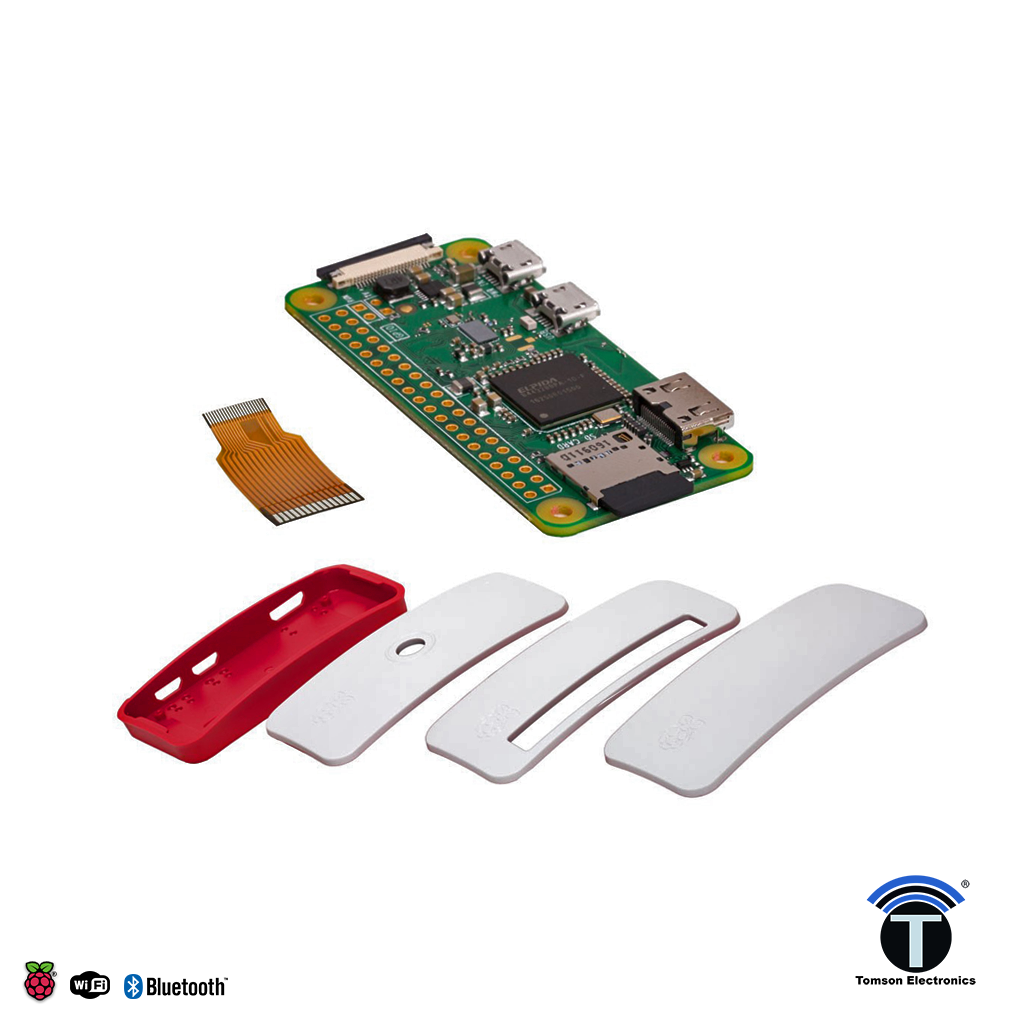 Raspberry Pi Zero Specifications
What is the Raspberry Pi Zero W BASIC PACK ( ZERO W AND CASE ENCLOSED IN THE PACK)?
Raspberry Pi Zero W is the Pi, but at a largely reduced size of only 65mm long by 30mm wide and at a very economical price. With the addition of wireless LAN and Bluetooth, the Raspberry Pi Zero W is ideal for making the embedded Internet of Things (IoT) projects. The Pi Zero W has been designed to be as flexible and compact as possible with mini connectors and an unpopulated 40-pin GPIO. The heart of the Raspberry Pi Zero W is a 1GHz BCM2835 single-core processor, the same as the B+ and A+, with 512MB RAM. Raspberry Pi Zero W is about four times faster than the original Raspberry Pi and is only a fraction of the cost of the current RPi3.
The Raspberry Pi Zero Case has been designed to fit both the Pi Zero and the Pi Zero W. These official cases consist of several parts and protect the Raspberry Pi Zero from things like rogue wires that might short it out while still allowing full access to the board. Simply snap the RPi into the bottom half of the enclosure, then snap on the desired top. No tools required!
Each case has a standard base featuring a cut-out to allow access to the GPIO, and a choice of three lids: a standard lid, a GPIO lid (allowing access to the GPIO pins from above) and a camera lid (which, when used with the short camera cable supplied, allows the Raspberry Pi camera to be fitted neatly inside it). Additionally, each case includes a 4cm long CSI cable and four rubber feet.
RASPBERRY PI ZERO FEATURES
1GHz, single-core CPU

512MB RAM

Mini-HDMI port

Micro-USB On-The-Go port

Micro-USB power

Hat-compatible 40-pin header

Composite video and reset headers

CSI camera connector

802.11n Wireless LAN

Bluetooth 4.0