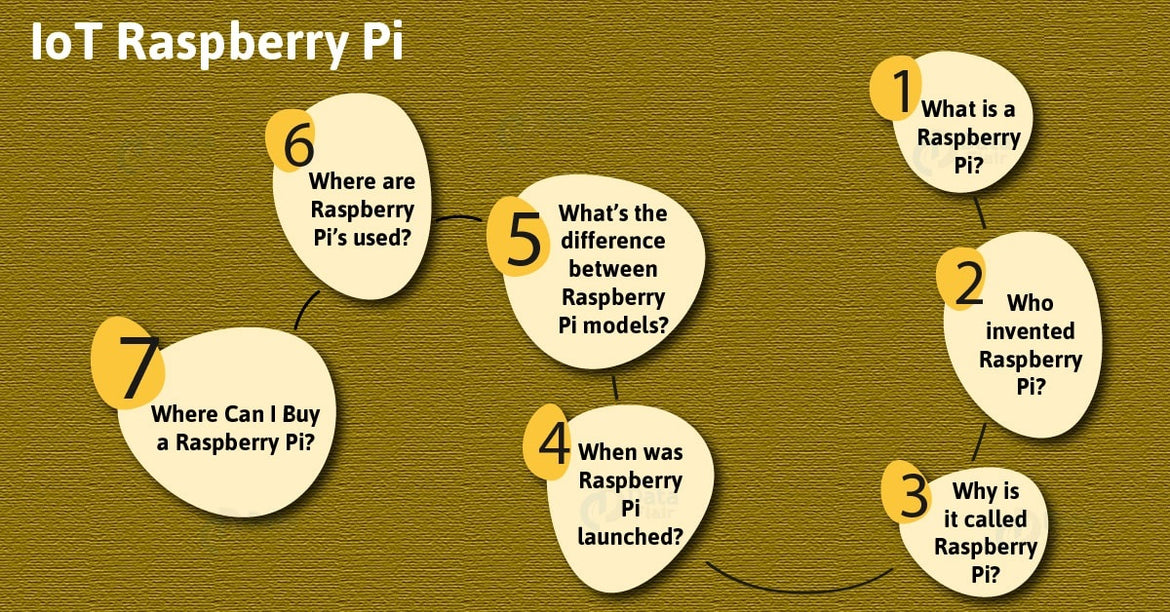 IoT Raspberry Pi Tutorial for Beginners
Introduction
 

Raspberry Pi Tutorial

In IoT Tutorials, we saw different types of applications like Health, Education, Government etc. But today, we will talk about a new device called Raspberry Pi that can be incorporated into IoT systems to make work easy. So, in this Raspberry Pi tutorial, we are going to learn about IoT Raspberry Pi introduction with its innovation. Moreover, we will discuss the difference between Raspberry Pi models in IoT. At last, we will see how to buy IoT Raspberry Pi.
So, let's start with Introduction to IoT Raspberry Pi.
What is a Raspberry Pi?
The Raspberry Pi is a very small computer that is almost the size of your credit card. It costs between Rs 750 and Rs 4000. It can function as a proper desktop computer or use to build smart devices and is available anywhere in the world. The Pi changed into what initially was meant to be a microcomputer to teach kids coding. Its scope can expand after hobbyists and engineers noticed its capacity, and it's far now one of the most famous objects inside the international era.
Who Invented IoT Raspberry Pi?
The Raspberry Pi Foundation was formed in the year 2008 after a group of technicians and academics who were concerned about students' interest gradually drifting and declining in computer sciences. So they came up with a low-cost computer as a solution to inspire children and make it more accessible.
The basic motive was that these tiny computer systems might allow for very basic and simple programming. Its low electricity utilization and value expect to make Pis more easily to be used in school rooms.
Why is it called Raspberry Pi?
The "Raspberry" name is a homage to computer companies in early times that were being named after a fruit, like Apple, Apricot Computers, Tangerine Computer Systems. The idea to make a small computer to run only the Python programming language is where the "Pi" derives from.
When was IoT Raspberry Pi launched?
The first Raspberry Pi unit which was available commercially was launched on February 19, 2012. This version featured 256MB of RAM, could run on Linux–based desktop operating systems, had one USB port, and no Ethernet port. This was named the Model A.
What's the Difference Between Raspberry Pi Models?
IoT Raspberry Pi models can be confusing because there are so many of them and there are two levels to the naming system. The "generation" of the model, represent by Pi 1, Pi 2, and Pi 3 where Pi 1 is for models between 2012-14, Pi 2 is 2015 models, and Pi 3 is 2016 models. So 3 is the most recent which is better than 2, which is better than 1.
The power and features indicate by model A, A+, B, and B+. It's not like grades though, A is lower than B.
Where is IoT Raspberry Pi's used?
IoT Raspberry Pi can be used in a wide variety of tasks. It's ideal and best suitable for projects where there is a computer requirement but you don't require much processing power, you want to keep the costs low and want to save on space. Here's a brief list of some ideal uses of the Pi.
Teach kids (or yourself) the way to code.
Use it as a desktop pc.
Construct a movement seize safety digital camera or a DIY pan and tilt digital camera with Raspberry Pi.
Make your very own retro gaming console.
You can make an FM radio or a global clock.
Prepare time-lapse pictures digital camera with the digital camera module.
Where Can I Buy a Raspberry Pi?
IoT Raspberry Pi can be brought through three official partners, but there are also third-party sellers in the market like Amazon, eBay, or other retail stores. In India You Can Buy From www.tomsonelectronics.com At The Best Price Online 
So, this was all about IoT Rasberry Pi Tutorial for Beginners. Hope you like our explanation.