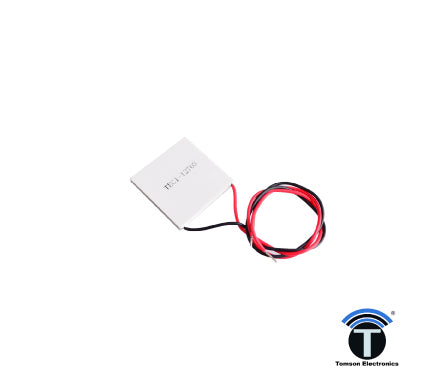 How Do The Peltier Module Works
THE PELTIER EFFECT
Thermoelectric coolers operate according to the Peltier effect. The effect creates a temperature difference by transferring heat between two electrical junctions. A voltage is applied across joined conductors to create an electric current. When the current flows through the junctions of the two conductors, heat is removed at one junction and cooling occurs. Heat is deposited at the other junction.
The main application of the Peltier effect is cooling. However, the Peltier effect can also be used for heating or control of temperature. In every case, a DC voltage is required.
ELEMENTS OF A THERMOELECTRIC COOLER
Thermoelectric coolers from II-IV Marlow act as a solid-state heat pump. Each features an array of alternating n- and p-type semiconductor. The semiconductors of different type have complementary Peltier coefficients. The array of elements is soldered between two ceramic plates, electrically in series and thermally in parallel. Solid solutions of bismuth telluride, antimony telluride and bismuth selenide are the preferred materials for Peltier effect devices because they provide the best performance from 180 to 400 K and can be made both n-type and p-type.
The cooling effect of any unit using thermoelectric coolers is proportional to the number of coolers used. Typically multiple thermoelectric coolers are connected side by side and then placed between two metal plates. II-VI Marlow features three different types of thermoelectric coolers including Thermocyclers, Single Stage, and Multi-Stage.
HEAT ABSORPTION
Cooling occurs when a current passes through one or more pairs of elements from n- to p-type; there is a decrease in temperature at the junction ("cold side"), resulting in the absorption of heat from the environment. The heat is carried along with the elements by electron transport and released on the opposite ("hot") side as the electrons move from a high- to a low-energy state.
The Peltier heat absorption is given by Q = P (Peltier Coefficient) I (current) t (time). A single stage thermoelectric cooler can produce a maximum temperature difference of about 70 degrees Celsius. However, II-VI Marlow's Triton ICE Thermoelectric Cooler will chill electronics as much as 2 degrees Celsius below current market offerings.
Buy Best Quality Peltier Module From Us and get more exciting offers